Did your Mother sweep dirt under the rug? House Cleaning Strategy?
Many times during the day, my Mother would sweep the dirt on the kitchen floor under her handmade braided rug. She did't leave it there but always swept it all up at the end of the day. Some people thought this cleaning strategy was a deception and not okay. I think it was a very creative cleaning strategy. With six children living on a farm in Oregon, it was quick, simple, put dirt out of sight, and kept the dirt from getting into other parts of the house. Whether new or old strategies, we can learn from creative cleaning strategies like this one my Mother used.
Whether you pay for house cleaning or do it yourself, these organizational cleaning strategies for your home can save you time and money when it comes to your house getting cleaned!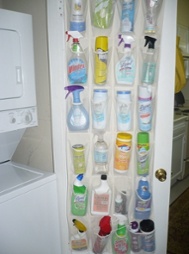 Use behind the door shoe holders for storage of small items you need. Perfect for socks, house cleaning supplies, a microfiber cleaning rag for dusting, small tools, jewelry (necklaces), scarves, and of course shoes.
In every room, in a basket/box or behind the door shoe holder, keep a scissors, tape, tape measure, ruler, dusting cloth and mild cleaner in spray bottle
Use a small basket in the TV room for the remote controls
Use a plastic caddy to store cleaning supplies for surfaces and floors and tote it from room to room when cleaning
If you don't have one, put coat hooks by the door from the garage into the house for coats, backpacks, a bag for recycle bags and bags to take to the grocery store
Store clean trash bags or roll of trash bags under the current liner in the trash can for ease of replacing after taking out the trash
Have a charity box/basket (with a lid?) in each level/end of your home and a wastebasket in every room – When you run into items that are empty, ripped, the wrong size or never used, immediately toss it in the wastebasket or charity box and throw or donate items when full.

Turn all hangers in your closet backwards, and then when you wear a piece of clothing, hang it forward facing the front. At the end of the year you'll know what you've never worn.
Ask every family member to take their shoes off before entering the house.
With these house cleaning strategies, your house cleaning will go faster, save you time if you do your own housecleaning and save you money if you pay for housecleaning.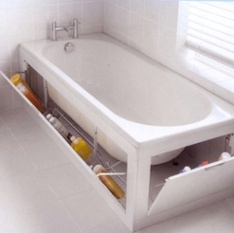 Using the space under your tub is the most creative cleaning organizational use of space I have come across. Maybe in my next remodel.
There are many benefits of an organized home
Saves Money
For buying things you enjoy
Saves Time
For doing things you enjoy
Reduces Stress
For enjoying the things you do
Throw it out? Give it Away? Organize it!
Watch for our next blog article for more creative ideas on how to keep your house clutter free which makes house cleaning easier!